Smokeeter Model SE50

Download Literature Owners Manual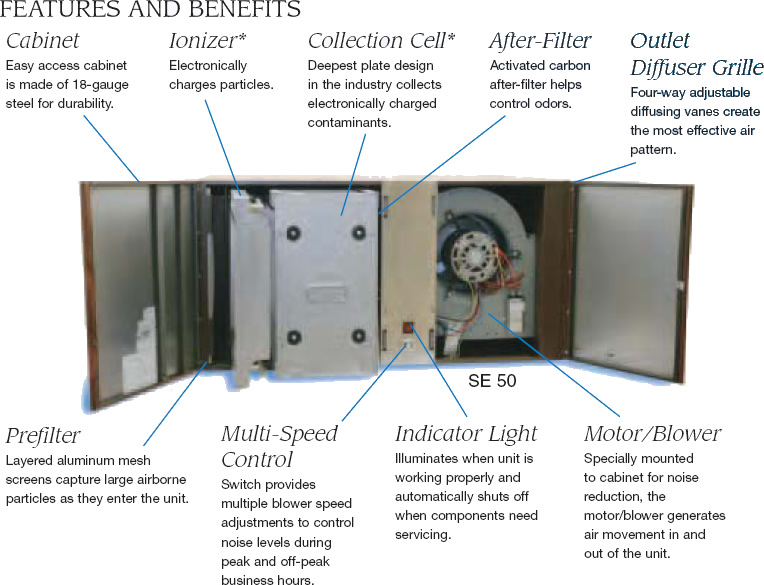 Specifications:
Dimensions: 40-1/4" Long x 19-1/2" Wide x 20" High
Weight: 138 Ibs.
CFM: 600-1,500 CFM
Motor: 1/2 Horse Power
Amps: 7 amps
Mounting Method: Ceiling / Wall
Smokeeter SE50
SE50 and SE40 Smoke eaters are the most popular models in the Smokeeter line. The SE 50 weighs 25 lbs more than the SE 40, provides airflow between 600-1500 CFM, and is almost 8 inches taller, making it ideal for larger spaces. This model has the capability to be ceiling hung, wall-mounted, or utilized as a tabletop unit. SE50 Smokeeters can be used alone or paired with other units to create a well-designed air pattern.
SE50 Smokeeters use ESP (Electrostatic Precipitator) technology to extract smoke, dust, pollen, bacteria, and other harmful particulates from the air. Particles are given an electric charge once drawn into the smoke eater, are then captured by collection cells, and finally sent through a carbon after-filter to ensure fresh air is dispersed for your visitors and staff.
SE 50 Smokeeter Features

Cabinet - 18-gauge, easy access
Motor/Blower - Generates air movement in & out of the unit
Pre-filter - Captures large airborne particles
Ionizer - Electronically charges particles
Collection Cell - Collects charged contaminants
After-Filter - Activated carbon helps control odors
Outlet Diffuser Grill - Creates the most effective air pattern
Multi-Speed Control - Controls noise levels
Indicator Light - Auto shuts off when maintenance is needed